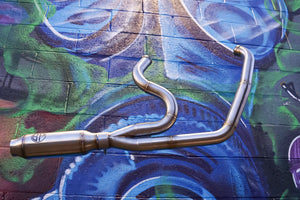 Bernings Performance - Early Dyna Model
If you're looking for a pipe that's made for stunting, Or Boss Hoggin down lanes with plenty of power! Bernings Performance is made for you! 

Proudly made in the USA 
Early model dyna exhaust is 100% hand crafted. featuring headpipes stepped to 1 7/8" a welded merge collector with a 2.25" exit to a 2.25 muffler core and 3.5" case. all exhaust systems are fully purged and made of the highest quality U.S.A made materials. 
the early model dyna system is suitable for all twin cam dynas from stock to built (roughly 150hp)